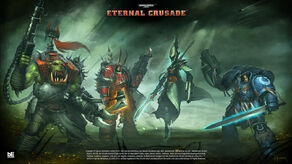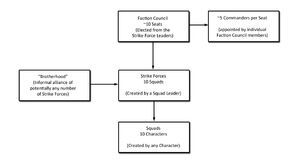 [1]Eternal Crusade will feature a hierarchical distribution of players, democratically chosen and voted for by their respective Faction's players. These ranks are not permanent and are instead dependant on the player's performance if the rank can be sustained or not, ensuring the good performance and victory of his team. Depending on the rank attained, players will be able to lead larger groups of players and gain rank-specific abilities and perks, such as increased "salary" and resources, which may be distributed within their teams.
[2]A campaign lasts around one week and the only strategic aspects coming the game itself are the primary and secondary objectives. After that, how players will achieve these objectives is 100% up to the faction's War Council, assuming they want to since players can still come out ahead in a campaign without completing some of the Objectives.
The War Council
[3]Within a faction's hierarchy, the War Council is at the very top, composed of the highest ranked players and voted into said positions by other players of the same faction. The War Council directs the faction's efforts in the battlefield by establishing what are the biggest priorities and determining what objectives are of the highest priority. As such, the War Council sets missions for other players, which are to be carried out and directed by the players in lower ranks.
Player Ranks
[4]From highest to lowest rank, players will be able to have the following ranks:
War Council Member: Members of the War Council are voted into this position from amongst the Force Commanders, and will hold this rank during the duration of a full campaign under normal circumstances. In this rank they get to command the entire faction along with the other members of the War Council.
Force Commander: Force Commanders are voted from amongst the Squad Leaders, and may lead a Strike Force of up to 100 players, made up of various Squads.
Squad Leader: Capable of leading anywhere from 4 to up to 10 players. Squad Leaders are the players that will be most likely to be fought alongside with, and are voted as such from within the squad itself.
Sources