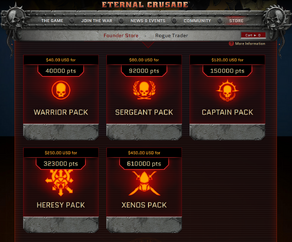 [1]The Founder's Program, as announced in the first Newsletter of April, has 3 objectives:
Enable fans to support the development team before launch.
Get constant feedback from founders both through discussion and focused testing alike.
Offer real, lasting value to all — more than a simple color switch — as a reward for showing faith in the development team so far in advance of the game's launch.
This program is further clarified as not being crowd funding. Everything in Warhammer 40,000: Eternal Crusade that has been publicly revealed so far is already fully financed. However, the team has kept a few ideas and features for later, and the founders programs might move a few unannounced features that are currently planned for after launch to be released before launch.
[2]Starting June 25th 2014, at 6pm UTC, players were able to start purchasing their Founders Packs for the following 18 months and the new Eternal Crusade website became available. [3]Buying a Founder's Pack gives players full access to the full game at launch, and all four races. [4]Founders are also able to build their own Package and change it as many times as they want, as well as being able to join Alpha and closed Beta testing. Founders will have access to Early Game Modules, including a Shooting Range inside the player's Squad Strike Cruiser as they travel through warpspace towards the planet of Arkhona, in the Segmentum Obscurus.
Pricing and Packages
[5]There are 5 Founder Packages to choose from that are not tiered. The prices and contents of the Founder Packs are as follows:
[12]For Guilds buying into Packs together, instead of having the chapter master buy the whole pack, every member will buy their own pack, and once they lock their package they can take an Oath for any given Guild, which will be recorded by the Online Store. During the summer, the developers will build reward items per the amount of Oaths a guild has. This way, every player can buy their own Pack and on top of that still get rewards and items based on how many Oaths a guild has.
[13]In addition to Founder Packages, there are five Point Bundles available for purchase. Point Bundles include points to be used in the Rogue Trader Store.
[14]Squig Bundle: $5 grants 5,000 points.
[15]Boy Bundle: $15 grants 15,750 points (5% bonus).
[16]Nob Bundle: $30 grants 33,000 points (10% bonus).
[17]Boss Bundle: $50 grants 57,500 points (15% bonus).
[18]Monthly Subscription Point Bundle: $10 per month grants an increasing amount of points. The first four months grant 10,000 points, months 4 through 6 grant 12,000 (20% bonus), months 7 through 9 grant 14,000 points (40% bonus), and months 10 and higher grant 16,000 points (60% bonus). [19]This bundle may also give access to exclusive information during the game's development.
Rogue Trader Store Items
The Rogue Trader store is the online store by which players and founders are able to buy premium content and redeem points for the Founders Program. Founders get to select unique rewards from the following categories:
Identity – Enhance character's core identity with unique Founders-only squad emblems, Heroes, and background-related titles, biographies, and cosmetics.
Weapon Skins – Unique cosmetics for each race.
Armor Skins – Unique cosmetics for each race.
Space Ship Decorations – Unique cosmetics to dress up Squad or Strike Force Cruiser's interior.
Miscellaneous – Unique execution animations and pets, both utility and non-combat.
Vehicles – Unique Founders-only vehicles.
Consumables – Extra ammunition, grenades, and other convenience item.
Accessories – Unique equipment pieces.
Over the coming year the development team will be adding content to each of these categories to increase the value for everyone who purchases a Founder's Pack. [20]This is an "Open Pack" system, meaning that founders are able to hand pick the options they want in their pack. Since the founder pack options list will be updated regularly (adding more options to each category), founders are allowed to change their mind, enabling them to change and adjust their choices until the start of Closed Beta, and plenty of warning is said to be given before doing so.
Founders have a points limit in their pack according to how much they paid (where USD $1 = 1000 Points for the Rogue Trader Store) and may select the items they want up to their limit (like building a tabletop army). Founders can remove an item from their list at any time until Closed Beta, and select another one of the same value or under. The system will stay open until the start of Closed Beta where the selection will become final.
Unique cosmetics aren't the only benefit, though. As a Founder, players will be a part of the "Spearhead" on Arkhona, gaining access to playable modules of Warhammer 40,000: Eternal Crusade far in advance of the game's launch date.
Unsorted Facts
Sources